The easiest way to turn usage data into new revenue. 
Adding usage-based pricing can grow your business 150% faster. But how do you get started, and what are some of the biggest challenges? Let's take a look.
A usage-based business model is the way forward.
Why? New revenue (and greater revenue). Happier customers. Easier partner plays. 
But getting there? Actually implementing it?
It's hard. Head-achingly hard. Unless you harness your usage data. Read on to find out exactly how to do it.
Want to get started right away?
Get the ultimate guide to usage-based revenue.
Consumption models are the best way to grow revenue and scale. But without the right data, they cause big problems. Learn the basics to get it right.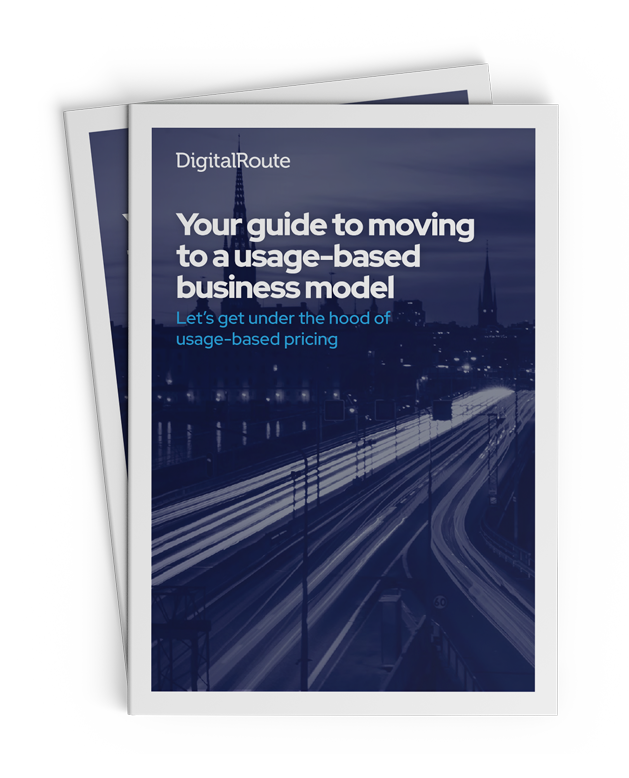 From riding bikes to watching films to subscribing to software, people and companies are leaning more and more towards using what they need – rather than owning. 
And it makes perfect sense.
Why buy more than you need when it's possible to simply pay for what you use? To meet these new demands, businesses are switching to consumption-based business models. And it's paying off. Big time. 
How does a consumption model generate more revenue?
Well, you can explore new sources of revenue. You can expand into new markets. You can bring on new customers. And you can scale in a more sustainable way. Rather than relying on adding new customers to fuel growth, you can scale by selling more usage-based services. 
Customers just prefer to pay for what they use.
Relationships aren't transactional anymore. They're continuous, ongoing, and played out in real-time. The good news for companies with usage-based pricing is that they grow 1.5 times faster! And if you look at the nine public companies with the best net dollar retention, seven of them have a usage-based model.
What's the right mix of usage-based pricing?
Research shows that SaaS or subscription companies grow fastest when usage-based pricing makes up 1-25% of their revenue. With this amount, they grow by 25% YoY – 1.5x higher than companies with no usage-based pricing.
So, if a consumption model…
with usage-based billing is the best way to earn more revenue – why aren't more organizations adopting it?
Deciding to add new pricing models based on new ways customers can use your services is one thing. But actually doing it? That's a whole different story…  
It requires an entirely modernized approach to revenue models. 
you followed an order-based revenue model. You'd decide how much to produce – then hope the market would demand it.
you need a usage-based model. Your customer decides how much they want to consume – and you need to keep them coming back. 
instead of a business model based on one-time sales, your business model is based on contracts. Which means your organization and your customer agree to certain services with certain set pricing.  
It's relatively simple if you start with one flat fee for an unlimited, all-you-can-eat subscription model.
Though "relatively simple" still involves a lot
Because even with an all-you-can-eat model, you still need to understand your customers, know what and how they're consuming, and transparently communicate this back to them. Oh yeah – all in real-time too.
But what if you want to start scaling your business by adding new tiers?
Combine prepaid and post-paid models? Add new packages and new services to the mix? Well, this is way more complex than all-you-can-eat. And it requires really close monitoring of usage data.
And if you partner with other companies to offer bundled services?
Because at this point, you need to work out which partners you need to pay, based on how customers use your combined services. 
 Well… that's when stuff gets really complex. Keeping track of who's using what on which price plan requires an approach to usage-based billing that most businesses just can't do. (Yet.) 
When 5G meets usage models.
5G enables near-limitless opportunities: new usage-based services, new customers, new ecosystems. Like a gaming company and a telco joining up to offer low-latency gaming services. Or when a port and a telco provide connectivity to ships with a guaranteed level of service. But making these partnerships possible gets complex, fast. Success relies on accurate partner settlements: knowing exactly who used what and which partner gets paid based on that. 
Because ultimately, the IT stack that got you this far

wasn't built for monetizing usage data.
We'll dig into this more in Chapter 4.  But let's remember this for now: usage data is the core of all digital business models. And if you aren't in control of it – you can't innovate. 
Trying to do a handbrake turn in an oil tanker. 
In short, your billing systems weren't built for usage-based revenue. If you've looked under the hood of your business, you know you've got to disentangle slow, manual, and error-prone workflows. 
You've got to deal with huge (and increasing) volumes of poor-quality data.
You've also got a lot of disparate systems (both cloud-based and legacy) that don't talk to each other. And because of all these siloed systems, you've got too much middleware, which drains your efficiency, and becomes a breeding ground for errors. So yeah: there's a lot to do before you can even think about monetizing your usage data.
The trouble with dirty data
With the shift to a consumption or usage-based business model, your price plan will drive your data volume. And if this data is dirty, wrong, or incomplete? Well, you can guess what effect that'll have on your revenue. (Hint: It isn't good.) 
Cut out the middleware between billing systems.
You can't get around the fact that you need a whole load of billing systems. (The average Fortune 1000 company has between 50 and 75.) But there is a way to ditch the middleware. We'll come onto that in a second. (Or you can skip ahead to Chapter 5 and find out now.) 
And all these issues aren't just stopping you from fully adopting usage-based billing.
They also cause a myriad of problems…  
Like: Leaking revenue when customers use more than they paid for. Systems can't handle the increasing volumes of data that come with usage-based business models, which results in incorrectly processed data, lost data, and a ton of errors. And this turns into a steady drip of revenue leakage. 
Revenue leakage is a serious issue
Organizations lose 3-7% of their topline revenue to it.
This means losing weeks to tracking cash flow
and slowing down your billing cycle. Wasting money when you can't dynamically adjust resource costs to actual revenue and demand. 
Losing customers due to a poor billing experience (whether it's overcharging them, sending inaccurate invoices, or not reacting in real-time). Failing to provide the dynamic, personalized services your customers and partners really want.  
Here's the thing: your customers are using your product in real-time – and to monetize this, you need to track their usage in real time too.
So what's usage data?
In its simplest form, usage data shows you how your service or product is used. It tells you things like: 
What is used? 

 

Who uses it?

 

How is it used?

 

When is it used?

 

Where is it used?

 

How much is it used?

 

How long is it used for?
Examples of usage data include unlocking a shared bike; calling the API of a cloud service; swiping a card on public transport; clicking play on an online movie; a toll camera identifying a license plate. 

Why consumption models still lead to revenue leakage.
Turning raw usage data into revenue is a wildly complex process. You need to track, orchestrate, and transform this raw usage into valuable billable information.
 Not only that, but once you switch to a usage model, you'll need to capture data from multiple sources – and data volumes will explode.
Today's revenue systems weren't built
for the high volume of data and complexity of usage-based billing. And they certainly can't handle the various data challenges this brings.
Which means revenue leakage and slow billing cycles and disappointed customers are all par for the course. 
To avoid revenue leakage in the move to a consumption model, your revenue system needs to manage several data challenges.
Data dimensions that put revenue at risk
Incorrect, out-of-date or incomplete data
Data from multiple sources in varying structures
Rapidly growing data volumes 
High velocity data from quick time or real-time streams
Transaction data that must be mapped to correct customer accounts
The data's accuracy and compliance with business rules.
transform, translate, cleanse, synchronize, classify and summarize your data – in a programmable, repeatable way. While operating at speed and at scale.
You need a way to turbocharge…
your usage-based business model. And you need it now.
Most enterprise billing systems are around 20 years old.
Turn raw usage data into revenue.
You can't afford to rip and replace your entire IT architecture: the time and cost alone would set you back years. (And who knows how much that would cost.)
Many organizations try to build their own solution.
 But this takes extensive time and resources – and it's hard to perfect. And often, they still leak revenue due to the same old data processing errors that plagued them before.
Even worse they get stuck with a system that isn't flexible enough to adapt to new demands, changes in the market, or new revenue streams.
What you need to do is find a brain for your billing system.
You need something that can automatically process usage data. Something that talks to everything in your revenue system landscape. Something that's purpose-built to monetize usage data – and tested in the most demanding sectors in the world.
Why reinvent the wheel when a solution is already available?
The world's most iconic brands solve these challenges by turning to DigitalRoute's Usage Data Platform. It's the only platform specifically designed and built to monetize usage data. Because when it comes to usage data, it's all about your revenue. And you can't take any chances with that.
We've spent over 20 years
perfecting this technology. So you can trust us to turn your customers' usage into your revenue.
So, who the heck are we?
We're DigitalRoute. A niche Swedish tech company obsessed with one thing: monetizing usage data. Our story starts in the telco industry, where we helped them solve the usage-based revenue dilemma decades ago. From there, our technology has become the standard for monetizing usage data for communications services. Since then, iconic brands from all industries trust us with their revenue, using our platform – deployed in the cloud or on-prem. 
 Combined, all this means DigitalRoute is the new standard for usage-based revenue. 
The platform is built on principles
that help you improve now – while setting you up for future innovation. The Usage Data Platform offers:
Full transparency
Data is auditable and normalized for analysis and use by all their other systems.
Adaptability
The platform is built to adapt to whatever your next revenue or billing model is, thanks to low-code configurability, built-in data integration catalogs, and widely tested system interoperability.
Accuracy-at-scale
It scales to any operational volume without losing accuracy – so you always have a live picture of your service's usage, can monetize it correctly, and transparently communicate this to your customers.
Flexibility
So you can create dynamic, variable experiences for your customers.
Intelligence
Letting you create complex rules and business logic for data flows and revenue management.
Pain-free implementation
There's no need for expensive, slow, rip and replace strategies.
Freedom to integrate
You can keep the systems you already use, as our vendor-agnostic platform integrates with leading billing solution providers, system integrators and hyperscalers.
Automated workflows
You can automate quote-to-cash processes at scale, using reliable, robust, and stress-tested algorithms and logic engines.
A history of being future-ready
Some of our deployments are nearly 20 years old – and so far, our platform has adapted to tens of thousands of different service offerings, pricing plans, and revenue models.
Even for the most complex 5G business models
The combination of 5G and the usage-based economy is creating highly complex – but highly lucrative – ecosystems. Our experience in the worlds of both telcos and enterprises mean we can process usage data in these complex ecosystems. Using our platform and our expertise, you can get joint offers to market quickly, and rely on accurate partner settlements to avoid disputes.
Turbocharge your revenue growth.
Our Usage Data Platform lets you create agile business model innovation within your organization. If you want to process usage data, our platform is a key ingredient in your revenue system landscape.
You react to what customers want
and what competitors are doing – before the market changes. You optimize your services and offerings based on how customer demand is changing.
You scale by adding more interesting offers and relevant services, based on different kinds of usage. Rather than only being able to grow by adding new users.
You prevent revenue leakage
by monetizing exactly what your customers and partners use.
The platform ensures no data – and therefore no revenue – is lost. It removes error-prone manual processes by automating your quote-to-cash process. And does it all in real-time, so you aren't waiting on slow payment cycles).
You grow your revenue faster
and have a faster time to go-live. And you can launch these new services faster and with more confidence, using our battle-proven platform.
You ensure all your transactions
are fully auditable and transparent. So you can provide accurate partner settlements, prevent disputes, and prove that you're following regulations.
You create a better experience
for customers, therefore reducing customer churn and increasing customer lifetime value. As they get a service that ebbs and flows with their demand, a transparent, real-time overview of their costs and usage, and peace of mind they're paying the right amount.
Ultimately, you get a foundation
that lets you do that handbrake turn, as often as you want. A foundation that lets you explore new revenue streams, act quickly when the market changes, and rely on accurate data to guide all your financial decisions.
Ready to plug the holes in your revenue stream?
Take your first step into the usage economy
Get the ultimate guide to usage-based revenue.
Learn about different consumption-based business models, dig deeper into the challenges and opportunities, and get a head start on your competition.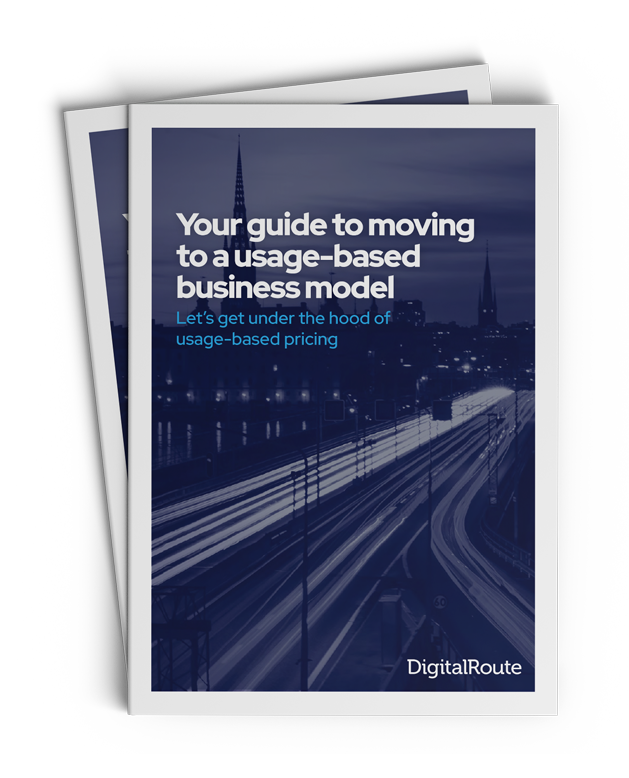 Have questions? We're ready to help!
We know that usage-based business models are complex, but we're happy to help guide you along the way.