Accelerating growth with effective channel partner settlement and content partner revenue sharing
00. Summary

01. Industry Overview

02. PREMIERIA

03. Challenges

04. The Project

05. Solution

06. Benefits

07. DigitalRoute
Digital platform companies offering video streaming services are faced with data management challenges related to revenue recognition and revenue sharing with their complex partner ecosystem. In order to show how these challenges can be solved with DigitalRoute, we have created an example company that is a composite of our actual customers' challenges.
Digital platform companies compete to attract and retain customers by delivering desirable video content and optimizing the subscriber experience. Content on these platforms is available on-demand and traditionally presented without any advertisements, although this has started to change.
The subscription video-on-demand (SVOD) market now includes over 11 platforms with more than 20 million subscribers each, according to SymphonyAI Media. The most popular platforms are Netflix (220M), Disney+ (130M), Amazon Prime Video (117M), Hulu, Apple TV+, Paramount+, HBO, ESPN+, Discovery+ and Showtime.
SVOD is an over-the-top (OTT) media distribution model where audiences pay a monthly or annual recurring subscription fee to access video content on an on-demand basis. Alternative models by comparison include, AVOD platforms, which are funded by advertisements, and TVOD platforms, funded by individual transactions. These models aren't mutually exclusive however, as there are several companies offering a mix of all three models.
When SVOD streaming services first appeared, purchasing and licensing content assets were the most important strategies for building an attractive library, however, digital platform companies have chosen to create increasing amounts of their own high-quality original content to attract and retain subscribers.
Competition between SVOD providers for the time, attention and disposable income of viewers is rife. Although success is constantly challenged by subscription fatigue, increased cost sensitivity, an understanding of subscriber preferences, and the need to progressively improve the richness of content libraries.
With competition for audiences intensifying and subscriber growth slowing down, the most successful digital platform companies are leveraging data and analytics to improve customer satisfaction and retention. By capturing and analyzing a range of data from their platforms, including content engagement metrics, user behavior trends, and financial data they can understand consumer desires and trends, deliver high-quality content recommendations, optimize new content investments, and maximize their overall revenue performance.
PREMIERIA™ is a fully owned digital platform company (DPC) and subsidiary of PREMIERIA Entertainment©. The company owns and operates a premium streaming video-on-demand service from their media platform. Its content features critically celebrated original series, stimulating documentaries, box-office hit movies, comedy and music performances and thrilling sports events.
PREMIERIA provides entertainment for everyone, and its services are purchased by individual subscribers, families, leisure facilities, hospitals, and other businesses. In addition, the company resells its SVOD platform services to content aggregators and media and entertainment infrastructure providers who bundle the services into their own entertainment packages.
PREMIERIA has a multi-genre content library which appeals to all generations, and it strives to deliver with a spotlight on subscriber experience. The PREMIERIA service is available for stand-alone streaming across all major devices and online, as well as via cable, telco, and streaming video providers.
To its subscribers, PREMIERIA differentiates itself through customer experience, manifested through tailored content, value for money and customer support. To its ecosystem of partners, PREMIERIA is aiming to differentiate itself through transparency, expedited partner commission calculations (revenue settlement) and a growing global footprint.
Strategically, PREMIERIA is primarily focused on growth through increased revenues, which consequently requires an increase in subscribers through direct and indirect channels and a focus on customer retention. The company has chosen the 'growth-by-subscriptions' path, as they feel that increasing subscription fees will impact their ability to remain competitive. PREMIERIA aims to achieve this in two ways: by increasing the number of content distribution channel partners, and by competing and differentiating with the best content available through an increased number of content partners.
PREMIERIA faced significant challenges related to its multi-partner ecosystem. It needed to effectively manage large quantities of generated data from financial transactions, such as partner settlements, revenue sharing and internal accounting, plus service usage information. These volumes of data have overwhelmed their internally developed solutions, requiring an expensive team of qualified engineers full-time just to keep it running. Meeting these challenges would enable the company to reduce operating costs, and to stay agile and focused on high quality delivery of their core business.
PREMIERIA's revenue model consists of a flat subscription fee from direct subscribers, plus a revenue share income from distribution channel partners that is calculated based on channel subscriber usage. However, due to a mismatch of internally developed and siloed integrations, it's taking too long to capture and process all the necessary data. These delays directly impact cash flow and are hurting both PREMIERIA and its partners' profitability.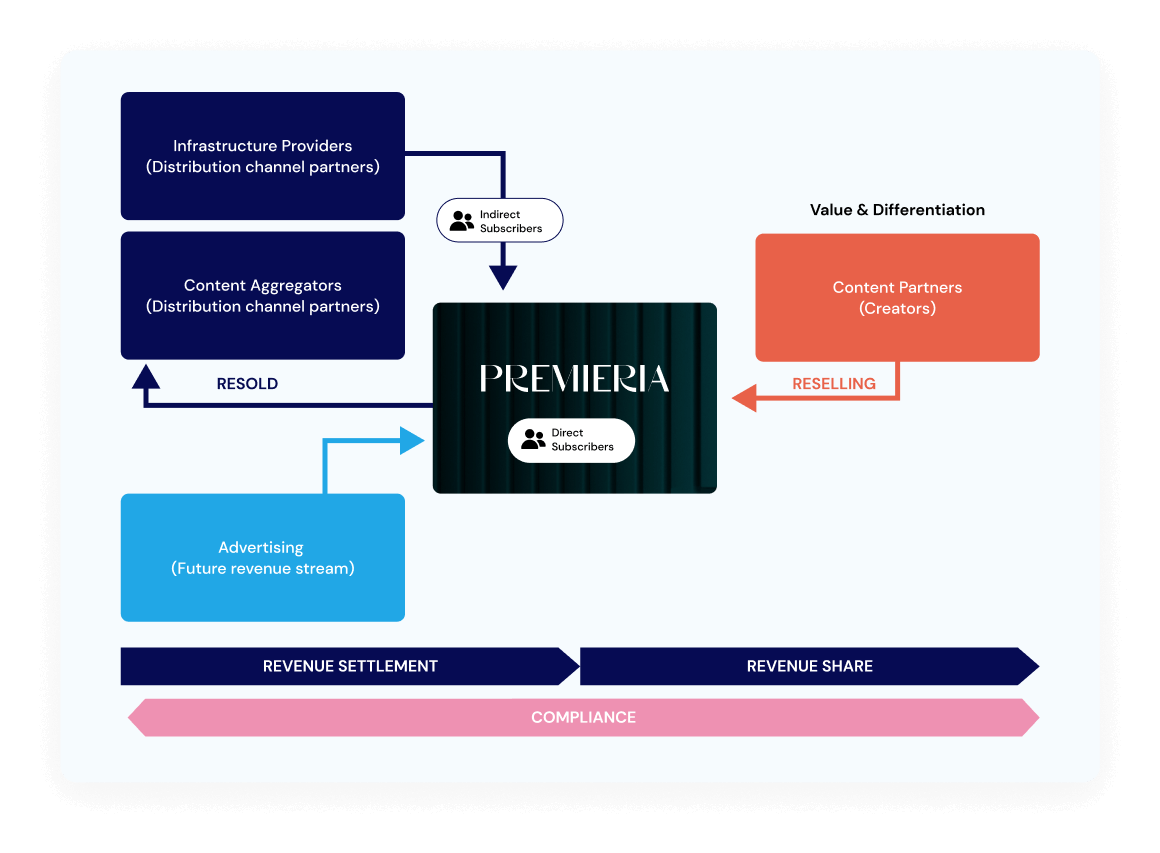 PREMIERIA Partner Revenue and Settlement Architecture
As the company's footprint grows, so does the need for auditable traceability of end-to-end financial transactions. A key concern is the risk of failing third-party financial audits, fines or charges and their market impact on PREMIERIA. Because of this, the identification of direct and indirect subscribers against their correct subscription payment records is a complicated process that needs to be addressed.
If not, PREMIERIA would have to trust metrics provided by its third parties, to ease the tension between the partners in the ecosystem. This is not acceptable because PREMIERIA's position is to handle the commercial relationship on behalf of content partners, and also be a trusted platform for distributors. In summary, the fundamental position of the company is at risk.
By offering services directly and indirectly to subscribers, PREMIERIA needed to keep track of not only direct and indirect usage, but also how much its partners should be paid or invoiced.
Due to the bundled content being offered, there are a great number of components that make up subscriber services. Typically, the usage of these services is tied to a single transaction that's passed to billing. Unravelling and deconstructing these data records is a significant burden on the accounting department because PREMIERIA'S in-house pre-processor, built by the accounting IT team, is slow and inefficient.
Tied to this service usage complexity is the range of compensation rates and diverse contract agreements between internally generated content, external content partners and distributors. It's a significant effort to tag and compensate all parties from usage records. Until now, the company had been keeping track of these transactions in separate ledgers, including MS Excel and other less formal methods.
Unfortunately, when the different ledgers didn't match, the partners needed to carry out a costly, time-consuming reconciliation process that involved comparing orders, invoices, payments and accounting entries, often spending many hours hunting down errors to correct them. Due to partners' cash flow being increasingly delayed, Premieria had lost a major partnership. This meant that valuable content that was planned to fuel further subscriber growth, had now gone to their competition.
The project was to introduce a solution that could solve the usage data management challenges that were impacting PREMIERIA's growth and ability to conduct reliable and efficient partnerships.
DigitalRoute helps CFOs of companies offering streaming media and entertainment with their data challenges, specifically data related to settlement and revenue sharing with their content and distribution partners. DigitalRoute's purpose-built and highly scalable solution can handle any volume of data, from any source, in any format, in real time.
In this case, PREMIERIA uses DigitalRoute Usage Engine to overcome its settlement and revenue sharing challenges. DigitalRoute Usage Engine tracks the usage of streaming services across PREMIERIA's entire partner ecosystem. It then automatically processes the identified financial transactions and this usage data, ensuring that the data is enriched with information about subscriptions, pricing and revenue-sharing agreements.
PREMIERIA gets clean usage records ready for revenue sharing calculations. The entire process is fully auditable, making any reconciliation process that arises easier and faster. The company can now automate the comparison of channel partner payments to usage by channel partner customers, helping them to detect discrepancies and speed up reconciliation.
With automated revenue sharing and settlement processes, including reconciling differences between subscriptions, invoices and payments, PREMIERIA can confidently and efficiently pay and invoice its partners and has created a strong audit trail. PREMIERIA's partner relationships will now grow stronger, as they now receive timely and correct settlements. The company's automated processes also now make onboarding new partners simpler and faster.
Ultimately, PREMIERIA is now able to create new partnerships and revenue streams, backed by a robust and reliable usage data management solution. PREMIERIA can also add payment time and accuracy in the SLA of its contracts, which is a competitive advantage. In addition, PREMIERA can even offer hybrid subscriptions that include pay-per-view, opening even more paths to monetization.
With its challenges addressed PREMIERIA is set up for growth. Proving that they can perform revenue sharing accurately and in good time, ensures that they can offer the best content available to their subscribers, optimizing their experience and minimizing the risk of churn. Being able automatically process and financially reconcile incomes with distribution partners, allows them to grow their footprint in the market and increase subscriber numbers through channels.
07. DigitalRoute at PREMIERIA
DigitalRoute helps companies in the media and entertainment industry, that offer subscription video on demand (SVOD) such as PREMIERIA, to effectively manage the usage and other data generated by their services. DigitalRoute Usage Engine collects, validates, aggregates, enriches and distributes detailed records, that optimize business performance through partner ecosystems. By ensuring that value-added ecosystem partners are correctly accounted for and compensated, DigitalRoute can be deployed in any industry with similar partner-related challenges.
If you're ready to explore how we can help you, let's talk.