What does it take for machine manufacturers to succeed with equiptment-as-a-service offerings? In this case, we look at how an old school OEM turned their Industry 4.0 fantasies into reality.
00. Summary

01. Industry Overview

02. Produktiv Machines

03. Challenges

04. The Project

05. Solution

06. Benefits

07. DigitalRoute
DigitalRoute's Usage Engine software helps long-established manufacturer Produktiv Machines to drive a pioneering new Equipment as a Service (EaaS) business model. With complex machine usage data cleaned and efficiently integrated in their stack, this old dog is learning new growth tricks with usage-based billing models.
The manufacturing industry is shifting from a focus on selling machines to providing more digital services and integrated solutions. Servitization, usage-based, outcome-based, power-by-the-hour, and subscription-based business models — however you dice it, this is the future of manufacturing.
By 2030, most OEMs are expected to offer bundled solutions. Frontrunners are already expanding their portfolio of digital services and software alongside traditional maintenance, materials and service packages.
For industrial machinery manufacturers specifically, the Equipment as a Service (EaaS) model is expected to evolve to a pure value-oriented and outcome-based offering as the adoption of IoT and other enabling technologies increases.
In addition to capturing recurring revenue from value-added digital and materials services across the equipment lifecycle, a EaaS model allows industrial machinery providers to add new revenue streams through better insights into asset utilization and optimization of assets.
The shift is driven by:
Customer Demand: Production businesses are increasingly interested in paying for outcomes rather than assets. Manufacturing and production businesses are demanding greater flexibility from machinery providers and balking at long-term contracts.
Technology Enablement: The maturity of IoT sensors and radio technologies, cloud and edge processing, Big Data management solutions, and AI are amongst the ecosystem of enabling technologies that make the EaaS model feasible. Digital solutions tied to the physical machines add an extra touchpoint that supports the implementation of a servitization business model.
Produktiv Machines has provided solutions for the global manufacturing and production industries since 1925. With headquarters in Plopingen, Germany, and a presence throughout EMEA, APAC and AMER, the company's vision is to support their customer's flexibility, productivity and growth through continual innovation.
Along with the superior machinery that their reputation is built on, Produktiv offers expert consultation, post-implementation support, and machinery maintenance services. Their leading-edge digital solutions portfolio includes planning, CAD, telematics, performance tracking, and analytics applications.
Produktiv is proud to be at the forefront of industrial digitalization, integrating native sensors and IoT communications technology in all new machine models. By expanding the capabilities of their machinery, Produktiv Machines is dedicated to expanding possibilities for their customers.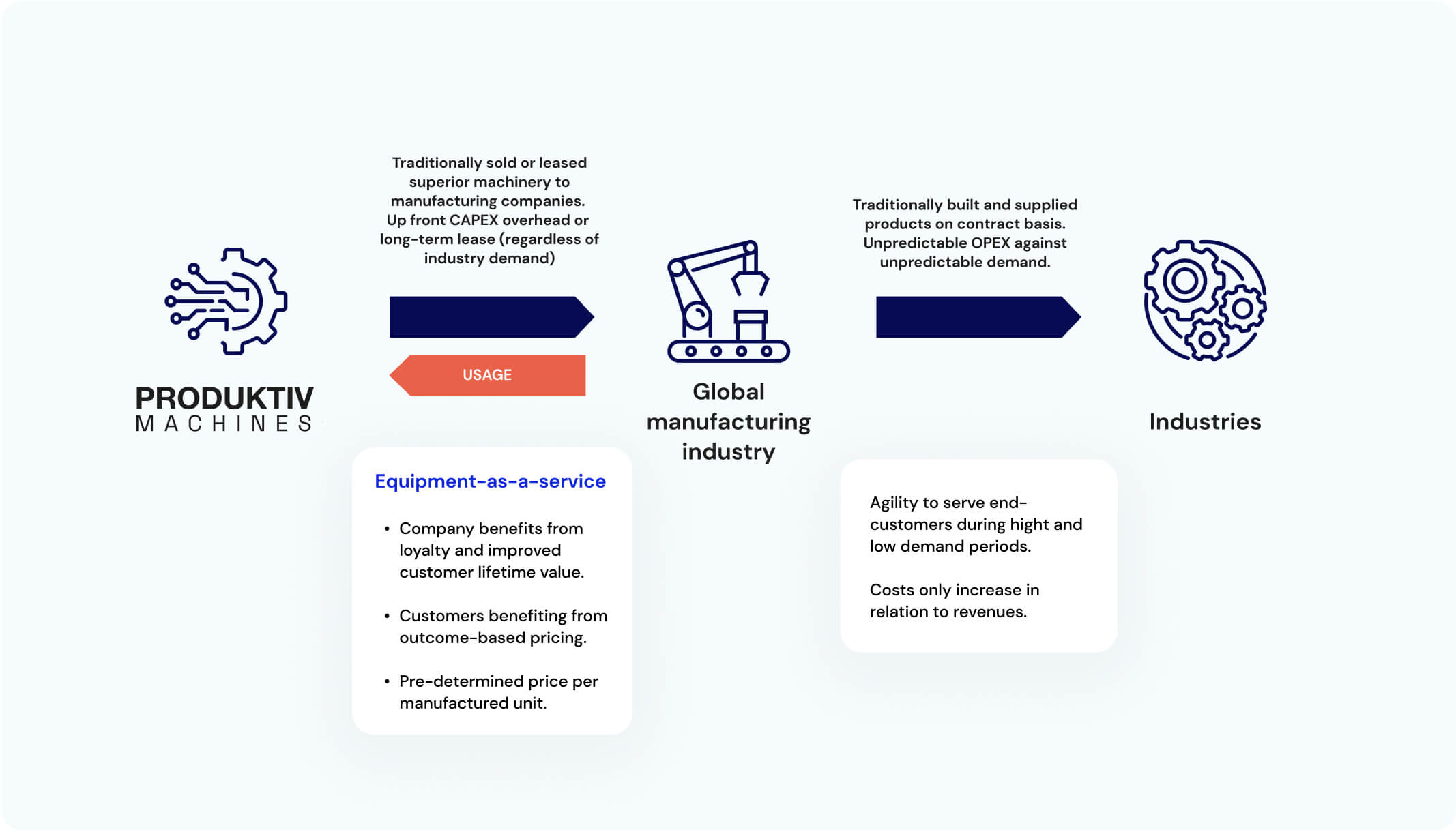 Produktiv Machines' North Star Metric is to provide the best possible customer experience. Thanks to that, they have many close and long-standing client relationships.
At the same time, the firm has long identified the need to continually increase each customer's lifetime value. To meet both those objectives, Produktiv needed to expand revenue streams generated from service offerings.
Based on positive results from proof-of-concept trials conducted over several years, the leadership at Produktiv decided that shifting to an outcome-based business model would help them meet their long-term goals.
Produktiv decided to roll out an Equipment as a Service (EaaS) business model connected to some of their most popular laser cutting machine lines. Rather than the machinery, this outcome-based business model places the services at the center of the offer.
In this scenario, the customer gets to use the Produktiv laser cutter without buying or leasing any equipment. Produktiv's customer pays a predetermined price for each unit that is produced by the machine.
The customer also no longer has to worry about machine repair and maintenance. That's all taken care of by Produktiv Machines.
This servitization model makes production more flexible for customers by allowing them to balance costs against revenues and demand for their manufactured products. But with all those benefits came a waterfall of related data challenges for Produktiv.
When we begin a customer dialogue, we start by trying to figure out what the core problem is. Changing an IT landscape that involves digital services and usage data management is no small task.
In the discovery process, we usually work with people from the technical side of a business. In this case, there was a strong connection between the IT and finance teams, who met with our technical sales and product teams, as well as with representatives from our billing solution partner.
The Produktiv Machines team told us they had worked closely over the years to refine their processes, but they were reaching a point where legacy integration solutions were holding them back. Along with the billing platform, we looked at how usage data was integrated with and enriched with information from the CRM, CPQ and ERP systems.
Our assessment found that Produktiv actually had all the necessary systems in place to implement usage-based billing. What was lacking was efficient integration and adequate data processing.
DigitalRoute Usage Engine now acts as the supervisor of Produktiv's IT architecture. It collects and processes the machine usage data from Produktiv's IoT platform and other systems, including those in production, lifecycle, and the supply chain.
Usage Engine enriches the data with customers and contract data from different sources including the ERP, CRM, and CPQ systems. It then provides the usage data records to specific business users at Produktiv Machines who need the data for billing, performance insights, or for customer relationship management.
The data can further be used by finance, IT, and customer service departments to avoid revenue leakage and support operational efficiency.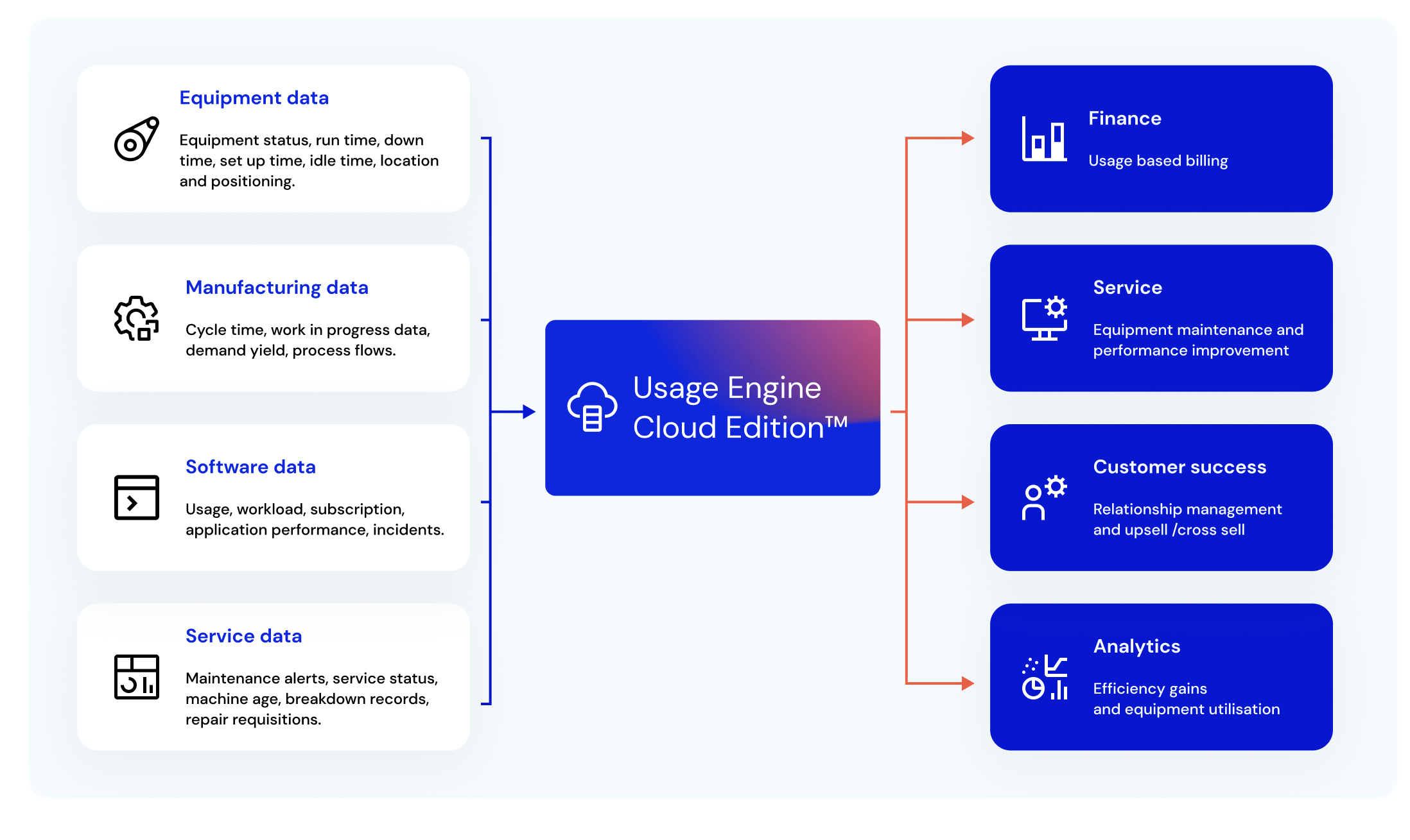 With better management of usage data, Produktiv Machines has been able to accelerate their business transformation. Revenue gains have increased as bundled offerings, including digital solution and post-implementation services, have all gained traction.
Customer satisfaction has been great so far, since customers are happy to pay only for what they use. They can check their bills in real-time and understand their usage. Visibility into customers' usage has already helped the sales team to identify upsell opportunities. When a customer reaches the top of their usage entitlement, they receive an automated prompt to purchase additional services.
With the Usage Engine in place, Produktiv can minimize potential revenue leakage through automated data collection and data hand-offs between different systems.
The EaaS journey has really just begun for Produktiv Machines. But with a foundation of well-managed usage data, the sky is truly the limit.
DigitalRoute helps enterprise companies solve the data challenges that impact performance and business growth. Our solutions collect and normalize raw usage data from operational systems, then aggregate, bind and enrich it with additional information for it to be sent as accurate records for financial and billing systems, and as insights to support business performance and customer experience outcomes.
The DigitalRoute Usage portfolio was purpose-built to solve the data challenges of subscription and consumption-based models. It's a scalable solution that handles usage data for any volume of data, from any source and in any format. In this case, Produktiv Machines uses DigitalRoute Usage Engine to optimize operational efficiencies, maximize equipment uptime and limit unnecessary spend on parts and servicing.
If you're ready to explore how we can help you, let's talk.